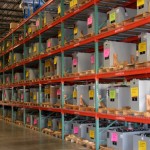 Northwest Energy Storage, the master distributor of world class Solar-One® batteries welcomes you to the Solar-One® web site. Here you will find valuable information on this high-performance battery designed specifically for Renewable Energy.
Like many other technological breakthroughs, HuP® (High Utilization Positive) was created in response to another need. Patented in 1982, its original objective was to meet tough new environmental standards, and help eliminate lead dust from the battery manufacturing plant. But it was discovered during initial testing that HuP® also exhibited cycling capabilities well in excess of conventional batteries. These impressive findings led to HuP® being selected for use at the Southern California Edison Company's Chino power facility in 1987. Since going on line, the 10 megawatt HuP® system has proven to be 100% reliable meeting daily deep cycle requirements.
This continued enhanced performance led engineers at EnerSys® to develop HuP for yet another application: motive power. In 1991, HuP® proved its mettle under extreme conditions in Operation Desert Storm, where it was used in materials handling vehicles delivering 10.5 million tons of supplies and equipment to 525,000 troops.
The next step in the evolution process was into Renewable Energy service where the Solar-One® battery with HuP® technology has been powering off grid homes for over 19 years while being charged from clean Energy produced by Solar Modules that turn sunlight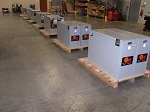 in to electricity, Wind machines that tap a valuable resource or Micro Hydro generators that convert falling water into usable energy.
Solar-One® dealers are leaders in the Renewable Energy Industry and have the knowledge and expertise to help you select the correct Solar-One® battery for your system. They are educated in the operation and maintenance of the Solar-One® battery and will be of great assistance in teaching you how to get the most out of your investment. Along with outstanding dealer support you also receive an installation and maintenance manual written for Renewable Energy users by Renewable Energy users. You also receive the manufacturers written warranty. No other battery in the Renewable Energy industry offers the technology, quality, warranty, support, and value of the Solar-One®.
Not all warranties are created equal and the Solar-One® warranty is not a distributors warranty, it is a full manufacturers warranty and is very simple. If the battery fails to deliver 80% of it's capacity in the first year, any defective cells will be replaced by Enersys including the shipping costs. For the next 6 years any defective cells will be replaced by EnerSys, but the consumer will pay the shipping costs. The last 3 years of the warranty you will be offered a substantial discount on the purchase of a new Solar-One® battery of equal or greater value. The Solar-One® was the first to offer a ten year warranty and it took years for others to offer a lesser value 10 year warranty.
Contact Us